Brother's Keeper DOS Version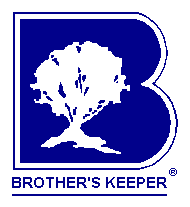 Brother's Keeper is a Windows (or DOS) genealogy shareware program that will help you organize your family history information and let you print a large variety of charts and reports.
---
Click here for Features.
---
This page does NOT contain the Windows version of BK. To get to the Windows site, click the link below.
The most recent version of BK for Windows can be obtained if you click on the line below to go to the download site.
Go to a site with BK for Windows.
---
---
Download BTRHLP18.ZIP to fix STAT errors for BK 5 files only (not for BK 6). Unzip then read FIXBK.DOC.)
The DOS version of BK5 will also continue to be supported. Below are the five files you need if you want the DOS version of BK5. This is version 5.2B for DOS.
The following files are NOT for Windows.
Download BK5A.ZIP (part one of 5.2B version for DOS 333,976 bytes)
Download BK5B.ZIP (part two of 5.2B version for DOS 411,377 bytes)
Download BK5C.ZIP (part three of 5.2B version for DOS 462,412 bytes)
Download BK5D.ZIP (part four of 5.2B version for DOS 452,378 bytes)
Download BK5DOC.EXE directions for BK5 5.2B version for DOS)
Download FRENCH1.EXE (for DOS)
Download GERMAN.EXE (for DOS)
Download NORWAY.EXE (for DOS)
Download DANISH.EXE (for DOS)
---
If you want the Windows version of BK go to the site listed near the top. There is no charge to download BK. If this is your first time using the program, it will be the shareware version. If you have already paid John Steed for the program, then when you install the current version, it will update your registered version.
There is not a version for the Macintosh computer.
BK already is year 2000 compliant.
If you have trouble downloading the shareware Windows program, you may also order the registered program for $45 from:
  John Steed
  6907 Childsdale Ave
  Rockford, MI 49341     U.S.A.


This Web Site and all contents are Copyright © 2001 by John Steed
All Rights Reserved. Any reproduction or reuse of these pages or
their contents requires the advance permission of John Steed.